TSM psychodrama is used in many varied contexts and situations. This article is about a TSM-psychodrama theory certified practitioner and her applications in communities.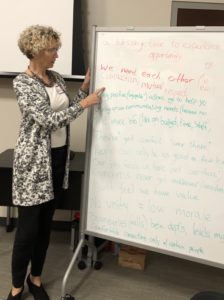 Differences are conversations waiting to happen. Talk to the "other side," because it's harder to hate up-close, as Michelle Obama says. Here's two challenges I'd love to see newscasters, YouTubers, Facebookers, teachers and leaders take, and then post on social media for the rest of us to imitate:
– Every day, listen to a complete stranger for five whole minutes. In the check-out line, at the bus stop, at a game, wherever. Keep an open mind; repeat what they said as if you believed it — even if just for those five minutes. That's called "mirroring" or "doubling" someone.
– Sort for similarities, not differences. In any conversation, challenge yourself to silently list at least 5 beliefs or attributes you have in common. If you train your brain to sort for commonalities, you'll notice more of them.
I had the pleasure to interview Andrea C Hummel. Andrea is trained in multicultural diversity, mediation and trauma recovery. She holds a Masters in applied anthropology with additional studies in intercultural conflict mediation. She's also trained in multi-track diplomacy and Shadow Work® and holds a theory certification in TSM psychodrama for post-traumatic growth. Her study of ten languages helps her connect with audiences when presenting at conferences both in the US and abroad. No stranger to staying focused during crisis, Andrea was in the Middle East during the 1990 Kuwaiti oil crisis, Guatemala during the 1995 refugee persecutions, and Greece during the 2015 refugee crisis. In 1991 Andrea founded a consulting firm specializing in cultural diversity. She was also an adjunct faculty member at University of Florida and Manatee Community College. Initially her focus was on preventing conflict (via cultural understanding); now it's on resolving conflict (via facilitated improvisations). She's the developer of the cutting-edge peacedramas for helping individuals and communities increase empathy, decrease miscommunication and create alternate endings to historical conflict. She's worked with the Micosukee Tribe of Indians, Recover!Charlottesville, US Navy STRICOM, AmeriCorps, Equifax, and state and local government agencies. Co-author of an Amazon #1 bestseller on women overcoming hardship, Andrea is currently writing a self-help book on post-traumatic growth with trauma expert Kate Hudgins.
Thank you so much for joining us Andrea! Can you tell us a story about what brought you to this specific career path?
Growing up bicultural, I wondered why I felt "different" and didn't fit in anywhere. Studying anthropology helped me understand there are many shades and colors of values, behaviors and ways of viewing the world — even though underneath it we're all humans. I spent years teaching cultural diversity workshops, and then learned about experiential work. I started leading group simulations so people could experience what it felt like to be an "outsider." Then in the late 1990s a friend persuaded me to attend a Shadow Work® weekend out in Colorado, where we healed personal shadows through acting them out. It was eye-opening: the whole idea that we have parts of ourselves that we hide away and then proceed to get tripped up by. That's why I pursued training in psychodrama, which is acting out your stories for personal growth.
Another influence was hearing family stories about growing up in Europe during World War II. My parents experienced living in daily fear and with little food in a country whose people were turning against each other. My grandfather in particular stood up for his beliefs against the prevailing government in a socio-political climate similar to what we see in the US and the world today: scapegoating, bigotry and rejection of anyone "different." He paid for his activism with his life, as did countless others…So I feel a need to continue what he started all those years ago.
Can you share the most interesting story that happened to you, since you began leading your company?
This is a great example of the fear and divisiveness in our country at the moment. Like most of us, I was watching the 2016 election closely, on the edge of my seat about who'd be our next president and what that would mean for the social fabric of our country. When the results came in the next morning, and so many people felt devastated, the mood in Washington DC (where I live) was somber. Everywhere I went that day, people looked in shock. I had a jumble of disjointed feelings inside too; I just had to do something. So I got several bouquets of flowers. I stood on a street corner with a sign reading "I'm committing a random act of kindness," and handed out a flower to every person walking by. It was amazing — and interesting — to see the looks on people's faces at getting a rose: mostly relief, smiles, and a few people even crying. That simple gesture of me, a complete stranger, connecting with them was what broke through their shock and sadness. Several passers-by stopped to share stories ("I interviewed Hillary just last night, so this is hitting me hard," or "I voted for Trump, but I'm taking this flower home to my mom who's a Democrat.") It showed me how hungry Americans are for connecting, talking, reaching out, being understood — they just don't know how. And now, in the current social climate, they're afraid to. It makes me even more passionate about doing the work I do.
Can you share a story about the funniest mistake you made when you were first starting? Can you tell us what lesson you learned from that?
When I was starting out years ago, I didn't know how to do an effective sales pitch. I remember talking to the police chief of a small Southern college, who was looking for sensitivity training for his officers. I laid out all the benefits, named other organizations I'd trained, and rattled off demographics and statistics. The chief nodded and asked a lot of questions, so I thought I'd sealed the deal. We shook hands, I got up to go and walked toward the door. Then I suddenly realized I hadn't told him my fee. With my hand on the doorknob, I turned around and named a figure, then left quickly. Oh boy! Big mistake! He had no chance to ask questions or negotiate…Needless to say, I didn't get the contract.
What I learned from that is: Know your own worth and own it. Be confident that what you have to offer the world is worth what you're asking. That applies to both work as well as personal gifts of our time, caring, listening, etc. that we offer to those around us daily.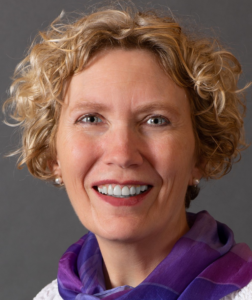 Can you describe how your organization is making a significant social impact?
Every conversation, every workshop, makes a difference in healing social wounds. We can't solve society's problems in one day. After all, Rome wasn't built in a day, and it would be rather monochrome if it were… But what we can do is create pockets of change throughout our towns. The people in those pockets will influence others, be more open with strangers, even organize events to get to know "the others." They can have the optimism to elect leaders who are likewise positive and working to bridge differences. One of my favorite quotes is by fellow anthropologist Margaret Mead: "Never doubt that a small group of thoughtful committed people can change the world. Indeed, it's the only thing that ever has."
I've also seen how even one of our projects two years ago in Charlottesville impacted not only the community who participated there; it also led to a second project with a group of therapists, who in turn helped their many clients, whose families and workplaces were hopefully also impacted by the empowering healing techniques we taught them. And it then led to further projects with nearby municipalities and their employees. So the social impact is a ripple effect of helping individuals in communities heal after violence and miscommunication, who pay it forward by trusting others more.
Wow! Can you tell me a story about a particular individual who was impacted by this cause?
When we started our work in Charlottesville, most people the team talked to were traumatized by the events of the 2017 white supremacist march. They were tense, emotional, fearful of leaving their homes, and hesitant to return downtown (where the violence occurred). One man in particular (with whom I later became friends) had a hard time finding meaning in his work, ended a significant relationship immediately afterwards, and stopped talking to strangers. After participating in our six months of community workshops, he said he'd had the catharsis he needed, felt more connected into the community, and was motivated to start additional community events to keep the conversations going. It opened his mind to seeing others through their eyes (instead of his own), and being more open to them even if he didn't accept certain of their viewpoints. Those are the success stories I like to hear!
Are there three things the community/society/politicians can do to help address the root of the problem you are trying to solve?
Social change begins at the community level — but leaders create the structure and role-modeling to motivate the rest of us. Several things leaders can do are:
Model "reaching across the aisle" and listening to those different from themselves. Model placing the well-being of the community/country ahead of that of the individual (such as getting re-elected to office).
Demonstrate acceptance of strangers; don't be a xenophobe. Reflect this in policies they sponsor. Look for solutions that aren't black-and-white, such as expelling all foreigners and building a wall. Instead, support capacity-building in other countries, reducing the need for citizens to immigrate to the US.
Organize local "meet-and-greets" with various ethnic, religious and political groups within communities. Remember that differences are just conversations waiting to happen. Sponsor quarterly community reconciliation forums to work through the hurt, fear and anger. In other words: create opportunities for acting out the change we want to see in the world, to paraphrase Gandhi.
How do you define "Leadership"? Can you explain what you mean?
It's not about self-aggrandizement but the glory of the TEAM. A good leader inspires his/her team, listens to their personal concerns (really connects with them), and sees them as people and not just producers/automatons. True leaders are passionate about the organization's mission and motivate others to follow. They are part cheerleader, counselor, coach and goal-setter. They are willing to be a voice for people who can't or won't speak up for themselves. (That last criteria is courtesy of my daughter, who's thankfully good at speaking up.)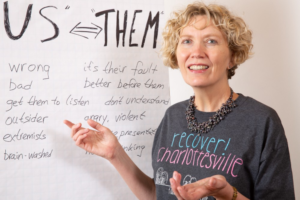 What are your "five things I wish someone told me when I first started" and why?
You've got to plant a lot of seeds before you see results. Be patient; it takes time to start a social movement. Several people I met decades ago are now coming back asking for workshops. Part of it is the greater need for social repair these days; the rest is people being more connected through social media.
It's hard work. You've got to keep up your belief in what you're doing. If you get burned out, take a break from the sad traumatic parts: pitch a tent in your living room or foster puppies. — Yes, I've done both.
You need a team. Big things can't be accomplished alone. Despite what my mother said, the best helping hand is at the end of your arm…AND many other willing people's arms! I wish I had the space here to name all the caring, interesting and even irritating people who've helped me along the way…especially when I was flying blind.
You'll spend a lot of time educating decision-makers — to explain the need for your services. I've noticed that a live demonstration of peacedramas at conferences really helps leaders make the decision. And videos show a lot that can't be explained with statistics or words.
There are multiple ways to get the job done. If you can't "save the world," then become a secretary (or other support) for someone who can. When I was growing up, I wanted to be a translator for the UN. Then I admired people like Jimmy Carter, Rosa Parks, Michelle Obama — anyone who made a difference without thinking of themselves. And now I believe I can impact society just by listening to people different from me, and inspiring others to do the same.
You are a person of enormous influence. If you could inspire a movement that would bring the most amount of good to the most amount of people, what would it be? You never know what your idea can trigger.
Differences are conversations waiting to happen. Talk to the "other side," because it's harder to hate up-close, as Michelle Obama says. Here's two challenges I'd love to see newscasters, YouTubers, Facebookers, teachers and leaders take, and then post on social media for the rest of us to imitate:
– Every day, listen to a complete stranger for five whole minutes. In the check-out line, at the bus stop, at a game, wherever. Keep an open mind; repeat what they said as if you believed it — even if just for those five minutes. That's called "mirroring" or "doubling" someone.
– Sort for similarities, not differences. In any conversation, challenge yourself to silently list at least 5 beliefs or attributes you have in common. If you train your brain to sort for commonalities, you'll notice more of them.
Can you please give us your favorite "Life Lesson Quote"? Can you share how it was relevant to you in your life?
Fred Rogers said: "When I was a boy and would see scary things in the news, my mother would say, 'Look for the helpers. You will always find people who are helping.'"
In other words, you see what you look for. That goes hand-in-hand with my mantra that a positive attitude produces positive change. I read Mr Rogers' quote only a few years ago, at a time when I was overwhelmed by the negativity, violence and organized hatred in the world. I was close to throwing in the proverbial towel and finding a less stressful career. But since then, I've chosen to focus on the helpers in the world, those who cut through the chaos to simply be present, listen and do their best for that one person next to them. That's all we can ever do. I really believe that's what makes the difference in today's world.
Is there a person in the world, or in the US, with whom you would love to have a private breakfast or lunch, and why? He or she might just see this, especially if we tag them. ☺
I actually have three favorite people:
Andrea Mitchell "reached across the aisle" in her own home: she's a Democratic journalist married to a Republican former chairman of the Federal Reserve. If she can do it (while in the public spotlight, no less), so can the rest of us. Her reporting has always been intelligent and insightful…And she shares my first name.
Jimmy and Rosalyn Carter have continued their activism, consulting and community support even after they left the White House. Mr Carter was the first president I followed as a young teen, and he gave me hope that presidents can inspire positive change. Both he and Mrs Carter have made perhaps more of an impact on the national and world stage in the past decades than in their four years in Washington.
Michelle Obama personified the quote "When they go low, we go high." She didn't contribute to the rising negativity and divisiveness in our society. Also, she was gracious in her role as ground-breaking African-American First Lady and is inspirational as a highly-educated and accomplished woman who was able to balance career and family.
How can our readers follow you on social media?
www.improvforpeace.com
https://www.facebook.com/improvforpeace/
https://twitter.com/andreachc3
https://www.linkedin.com/in/andreahummel/
This was very meaningful, thank you so much!
Article originally posted on Medium.com
https://therapeuticspiralmodel.com/wp-content/uploads/2017/04/tsi-Logo-horiz-no-border600-300x54.png
0
0
Therapeutic Spiral International
https://therapeuticspiralmodel.com/wp-content/uploads/2017/04/tsi-Logo-horiz-no-border600-300x54.png
Therapeutic Spiral International
2019-07-24 23:39:00
2019-07-25 18:12:45
Andrea C Hummel: "Differences are conversations waiting to happen; Talk to the "other side," because it's harder to hate up-close"