By Karen Drucker
Sitting by the pool after a swim looking out on the waters of the Arabian Sea surrounded by palm trees and listening to the sound of tropical birds. I am treating myself to two weeks of Ayurvedic treatment at a place in Kerala recommended by Jochen Becker called Isola di Cocco. Feels like a well deserved rest and commitment to my health after nine intensive days of therapeutic spiral workshops.
We had a four day workshop in Bangalore, making friends with defenses, then a travel day to Delhi to begin a four day on transforming the trauma triangle. Arriving the first morning of the Bangalore group was like greeting old friends. Most of the participants had been with us last year and it was wonderful to see familiar faces!
Steven Durost and I had a smooth and beautiful co-leadership dance.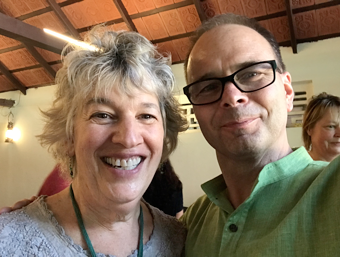 It's such a privilege to work with someone I love, respect, and feel so met and supported by in all aspects of the work. From planning to timing, switching between team leader and assistant leader in directing the dramas, working with participants and the team, we were like butter.
Sadhana, a team member in Delhi writes, "It's heartening to see how you have teamed up with Steven to make TSM such a beautiful experience for us. I love to see the way you two adore each other, shift effortlessly into various roles with so much fluidity and understanding and make a remarkable role models of professional partners with touch of Being incorporated into it. Could the universe give us any better gift than having the opportunity to see and experience Dr Steven and Dr Karen! I guess not.. This is the best gift!"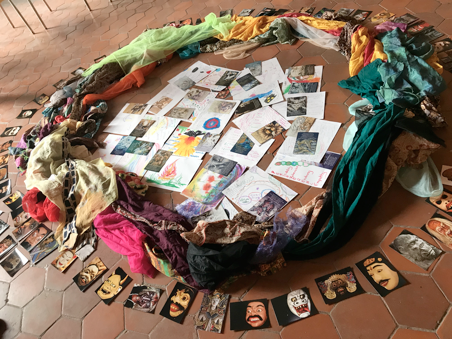 They loved the teaching I designed on working with the trauma triangle with an individual, splitting into groups of three to practice.
We were invited to Rashmi Datt's house for dinner one night. She is a PAT and is the trainer in the Delhi group. It was very special to go to her house, which took almost an hour in crazy Delhi traffic, but we laughed a lot and enjoyed ourselves.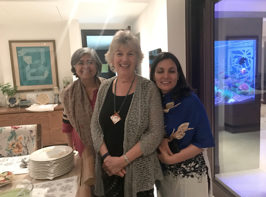 I'm including a poem written by one of our protagonists the night after her drama. She entitled her drama "Priyanka Owning Her Power." One of her hopes for the drama was feeling worthy of accepting an award that she would be receiving a few days later. The picture tells the story!!
Lost & Found
by Priyanka Dutta
I was born resourceful,
I was born beautiful!
But somewhere in this life's journey,
I lost a part of me…
I kept looking for it here & there,
But was left with frustration & despair;
As trust walked away from me,
I lost my 'confidence key'.
Unlocking my potential became difficult,
And I started believing it was my fault;
I relied on others to feel good,
And to my 'SELF' I became rude…
But in my quest, I found a loving community,
Who embraced me & set me free;
I can't thank you enough,
For reconnecting me to my other half…
Today I again feel resourceful,
Today yet again I feel powerful;
Trust came back to me,
I found my 'confidence key'.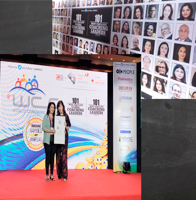 I feel very inspired, nurtured and enriched by this time in India and the privilege of working with such terrific people. Gratitude to Dr. Jochen Becker for his initial invitation and for inviting us back for the next two years!!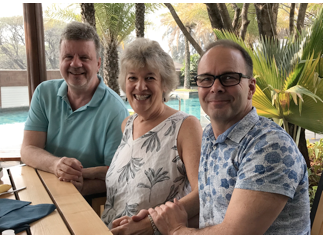 https://therapeuticspiralmodel.com/wp-content/uploads/2017/04/tsi-Logo-horiz-no-border600-300x54.png
0
0
Therapeutic Spiral International
https://therapeuticspiralmodel.com/wp-content/uploads/2017/04/tsi-Logo-horiz-no-border600-300x54.png
Therapeutic Spiral International
2020-03-11 17:31:31
2020-03-11 17:31:31
India 2020